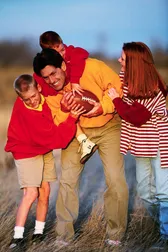 Unlike conventional medicine, which focuses on attempting to treat disease once it occurs, Greco Family Chiropractic emphasizes improving your health in an effort to reduce the risk of pain and illness in the first place.
Most people would rather be healthy and avoid illness, if they could.
This is one of the main reasons for the big surge in the popularity of our wellness center.
Since prevention saves time and money, people are recognizing the benefits incorporating a wellness doctor into their traditional medicine repertoire; one that will help them achieve and maintain optimal health, and prevent skeletal degeneration.
Others seek to relieve symptoms without the use of drugs and surgery.
Of all the reasons patients seek care, about 75% are due to lifestyle problems. It's our obligation to teach you what you can do outside our office to help you achieve better results inside our office. Most likely, it's the things you are doing outside our office that led you to our office in the first place! We may recommend changes in the way you exercise, eat, sleep, think, or even play. Your treatment plan is specifically designed for you and should serve to restore your body's function and ability to perform normal daily activities, improve overall health and quality of life, and prevent spinal degeneration. Most patients even report positive changes in their health which are unrelated to their initial complaint!
Our office has much experience with all types of cases and wants to become part of your health care team. We are passionate about prevention and wellness. You are encouraged to ask questions, as patients who understand their healthcare have a better outcome. We look forward to providing you with the best that drug-free healthcare has to offer. You have come to the right place!